To visit my new page on MySpace.com click here


is a Celtic/Breton band which Sharynne recently performed with on vocals and woodwinds, marking her return to the music stage after several years away. (she is not currently performing with them). Click the band logo to visit their site for details on upcoming concerts and more information.
Click here to visit their page on MySpace.com, and here to watch video clips on their You-tube page.
Trouz Bras (pronounced "True Brazz" or arguably "Trooz brahz") means "Great Sound" in the Celtic language of Brittany, the ancient country that now finds itself in the northwestern region of France. It also translates as "Big Noise" - a reference to the loud Breton bagpipes that fuel the band's driving sound.
Catapulting traditional Breton dance tunes into the 21st century, Trouz Bras combines swirling bagpipes and soaring fiddle with a rocking rhythm section. The band is led by bagpiper and vocalist Ray Price, a native Welshman who has expanded his Celtic roots to become a global ambassador of Breton music and dance.

---

Devandaurae is a new musical project featuring:
Sharynne MacLeod NicMhacha (vocals, Irish flute, pennywhistle, recorder, bodran, dulcimer, harp and keyboards)
other musicians yet to be announced on various exotic instruments.
-and perhaps some surprise special guests!
Devandaurae's original and traditional songs draw their inspiration from Irish, Scottish, Welsh and Cornish folk music; vocal and instrumental music from medieval Scotland, Britain and France; and elements of early, ancient and primal music from other cultures and traditions. Watch this site for CD and performance info!
About the Name: Devandaurae means 'God or Goddess of the Oak.'
It is comprised of three elements:
The first, 'deva' (or 'dewa') is a Pictish word meaning 'goddess'. The middle part has two functions. Firstly, it reflects an early British suffix (-on), which is used to show that something is sacred or divine. It is found in various god names, as in the Welsh figure of Mabon (which means 'Divine Son'). Therefore, the middle section can imply 'devon', signifying a male deity. (To us, the the sacred is both masculine and feminine). The middle part also reflects Old Irish 'an', meaning 'the / of the'… And finally, 'dara,' Old Irish for "(of the) Oak."

So, 'deva' is 'goddess,' 'devon' is 'god,' and 'dara' is 'of the oak.'
Pronunciation: For you purists out there, the name should be pronounced as follows: [DEH-wun THA-ruh] - the 'v' as written in Latin (by those who wrote down the Pictish place-names) is pronounced like 'w' in English. The 'D' in 'dara' undergoes a sound change called lenition, and is therefore pronounced like the 'TH' sound in the English word 'bathe' (not like the 'th' in 'think.')

BUT… for the ease and comfort of the general populace, 'Devon Dara' will be fine!
This band has a myspace page now which can be seen here. There are no audio clips available yet, but stay tuned!
---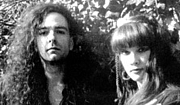 highly-acclaimed CD features Sharynne MacLeod NicMhacha (Vocals, woodwinds, strings, percussion) and Scott Dakota (wide-range fretless guitar, loops and electronic treatment, percussion). They present original and traditional songs which combine Celtic, medieval and modern music in a unique and unforgettable electronic and Otherworldy setting, drawing on the trance-inducing and consciousness-altering properties of overtones, featuring primal percussion and haunting winds and vocals.

The Moors' CD has received airplay all over the United States, as well as in Canada, Britain, Scotland, France, Germany, Belgium, Chile, Israel and Hong Kong. It was voted 'Best CD of the Year' by the Noise Magazine upon its release, and received rave reviews across the board, in numerous magazines and websites nation-wide.

You may no longer order the Moors CD by logging onto the Castle von Buhler records website, as it is down. Shortly you will be able to electronically purchase Moors CD's directly through this site (on the 'Books, CD's and more' section) - We'll keep you posted! you may purchase them here the old fashioned way for now, (details below).

In the meantime you can read some reviews of the Moors here: Moors reviews.
For more Moors links: Moors links


Moors CD's are $20.00 each (plus $3.00 each shipping and handling in the continental US).
overseas orders please write to inquire
Please email for new postal address.

*







for moor info write to:








Complete Sitemap