presents

Official website


Updates: You can now purchase the CD here
Some people have been asking about the lyrics, if you buy the CD as a digital download you don't get a copy of them as you do if you buy a physical CD, however, you can now read the lyrics on this site, on the new lyrics page. This is still a work in progress, so they aren't all up yet, it's taking me a while to read them from the tiny gold on black fancy font from my original pressing of the CD, so bear with me, but I'm chipping away at it. I will also be posting scans of the original edition booklet from Castle Von Buhler records.
click here for the lyrics page

Visit the Moors' page on Myspace.com where you can hear some of their music now!


The Hunter music video is now viewable here:

Video directed by Marcel Rizzo Check out his other works, comment on this video on YouTube, visit him on MySpace.com here.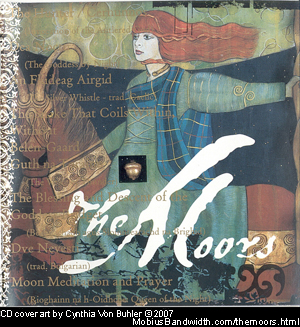 "THE MOORS
Produced by Castle von Buhler - Review by Peg Aloi in Obsidian magazine.
The music of the Moors (guitarist/electronic whiz Scott Dakota, and singer/flautist Sharynne nic Macha) transcends genre, blending gothic, ambient, rock, ethereal, Celtic traditional and tribal elements. The band describes their particular style as "goth-pagan-trance rock," but perhaps categorizing such a complex and engaging sound is not only difficult, but pointless. Suffice it to say that The Moors have a very loyal following in their native Boston, and the release of their long-awaited CD is a dream come true for those fans who live too far away to frequent the band's highly acclaimed live performances.
Nic Macha is descended from the Clan MacLeod in Scotland, and is a student and teacher of Celtic studies who leads classes and workshops on Celtic spirituality. Her interests and knowledge are colorfully reflected in the music of the Moors, from ancient ballads in Scots Gaelic set to pounding guitar rhythms, to invocations of the Horned God backed with animalistic riffs that would make Jimi Hendrix proud, to poetic recitations of blessings of the Goddess Brigid accompanied by dark, melodious harp strummings. A multi-lingual (Gaelic, French, Latin, Bulgarian and English), impressively erudite and absolutely beautiful collection of songs makes up this album, with the added bonus of artwork by award-winning painter Cynthia von Buhler, who also performs in the band Women of Sodom. With her husband Adam (who plays guitar with up-and-coming Boston band Splashdown), Cynthia produces CDs and musical events under the Castle von Buhler label, and together they have produced three compilation CDs whose profits go to benefit AIDS research. Cynthia's work on the paintings for CD packages involve creating art that reflects the spirit and mood of each song-often her paintings include natural objects such as frames made of pine cones or seashells, and some paintings have been displayed with fresh apples and live doves inserted into windows in the paintings.

Such evocative, unusual visuals are perfectly suited to the music of the Moors, which is dreamy and trance inducing as often as it is sensual and passionate. "The Snake that Coils Within, Without" conjures the image of Ourobouros, the snake that bites its own tail, symbol of Kundalini and Tantric sex: it is a tour de force of glossolalia and erotic, driving rhythm. "The Hunter/Cernunnos" is the horned god invocation that celebrates the most virile forest deity of all, and nic Macha's soaring vocals are an emotional, beatific tribute. The haunting "Belengaard" relates visions of past lives in European forests, and its lilting flute solo and lush polyphonic melodies are thrilling and unforgettable. The two traditional Scottish songs "Silver Whistle" (about the homecoming of Bonny Prince Charlie) and "Voice of Thunder" feature lyrics in Scots Gaelic, and both are very ethereal yet ritualistic-sounding pieces that effectively create an otherworldly mood. "Dea Noctu" which means "Goddess by Night" is a stunning Latin invocation of the goddess in her dark and mysterious aspect, with dramatic harmonies and a stark, rhythmic pulse. Each song on the album is so well crafted that it is difficult to pick a favorite or a highlight. But two very unique pieces are a Bulgarian chant sung in two-part throat-singing style by nic Macha, and the aforementioned Brigid invocation, which is recited in Gaelic and in English in a hushed, reverent voice with ancient-sounding harp in the background.

One of the most common forms of praise the Moors receive is the surprise registered when people realize "it's only two people??!!" The multi-layered guitar sounds and effects created by Dakota, and the haunting vocals and skilled woodwinds of nic Macha, often conjure the image of a much larger group of musicians, or at the very least a studio-driven concoction that cannot be recreated in a live setting. While nic Macha does her own gorgeous backing vocals on the CD and these, alas, cannot be duplicated live (although this never detracts from her artful stage performance), Dakota's elaborate creations upon his custom, fretless guitar depend upon a carefully orchestrated system of computerized sound loops and intricate maneuvering on his instrument. But dependent as the band is upon the modern wizardry of technology to create its rich sound, the ultimate effect of the music of the Moors is one which owes everything to the versatile talents and visions of its creators, and to the age-old dreams, stories, legends and magics that inspire them."

(More reviews below)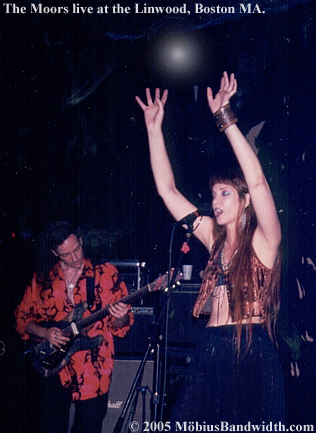 From Boston Phoenix writer Brett Milano's music reviews (the Moors made #5 on his top ten list) comes this favourable write-up"

"The Moors (CVB). Having as much to do with paganism as rock and roll, this is music to visit a spiritual netherworld by. The Moors employ some ancient musical spells to get you there, but they also call on the power of a ripping guitar solo. The sound incorporates techno, rock, and Celtic elements, with an electronic pulse wrapping around Sharynne NicMhacha's haunting vocals. When partner Scott Dakota joins in on guitar, they invoke the moon goddess and Jimmy Page at once."


and from Human Drama.net this review:

"THE MOORS - Singer/ flautist Sharynne NicMhacha and guitarist/ sound sculptor Scott Dakota encourage you to trance out, and if you indulge yourself in the swirling soundscapes of their self-titled debut, you'll probably close your eyes and start swaying. Their epic debut is a truly captivating mix of tribal percussion, Celtic melodies, and the unorthodox tuning system of just intonation. Gritty and spacey guitars, mystical female vox, spiraling flute, and a variety of instrumentation blend seamlessly in the Moors' sonic universe. They have evidently generated a buzz in Germany and nabbed a licensing deal with German label Hyperium."

The Boston Phoenix:

'The Moors get Otherworldly results: dark and mysterious beauty. Sharynne NicMhacha's vocals float over a well-crafted backdrop of drones, guitar and percussion.'

New England Performer:

'Ethereal and intoxicating… very mystical. Spells and invocations, possessed guitar improvs dance around an aural fire. Percussion loops carry you through foggy washes to secret places.'

Pit Report:

'Dark, warm Celtic-influenced work, with passionate burning guitars by Scott Dakota, traditional instruments, and a voice that not only soars, but uses phrasings beyond the realm of most singers; a voice right up there with Lisa Gerard of Dead Can Dance.'

Caitlin Matthews, Celtic Author:

'Thank you for sending the music…I love the dense, archaic sound!'

Horns and Crescent:

'The Moors blend has been referred to as 'primal, ethereal pagan rock… a cauldron brimming with Celtic lore, primal beats, powerful hypnotic soundscapes... a sensory journey between the worlds, opening shamanic pathways into the earth mysteries, ancient lore and the Underworld.' The music spirals you effortlessly into a place of timelessness. This extended exploration allows The Moors to entice you into that place of dreams and enchantments where your imagination has free reign to follow Scott's fretless guitar and Sharynne's soaring voice. For an ardent Celtophile such as myself, this album was a real treat to review as well as to own.'

Return to Top of page




From Scott Gardener:

Appreciation of your work

'I had in the past petitioned about putting your album on iTunes to make it more readily available, but after having seen and heard it, I am glad I have it instead on CD. Aside from the beauty of the illustrations and lyrics in the packaging, there is a yet more important reason for having your work on Compact Disc, and that is fidelity. Some albums are so remarkable that they deserve the respect of a higher bit rate and an uncompressed master copy. Although I do not describe myself as a true, die-hard audiophile, I am upgrading my preferences, and there are some pieces that are particularly important, and I feel your album is one of them.

It is particularly remarkable that your work is done independently and yet so polished. I am quite fond of independent music; most innovation and originality from new artists almost has to come from musicians outside the industry these days. But, so much alternative music tends to be rough, leaving a feeling that it could have been more--more layered and less rushed through the studio. Your album is a rare gem even when placed alongside the best professional talents. I say this genuinely when I report that I would put your album along side such well-respected personal favorites as The Cure's "Disintegration" or Type O Negative's "October Rust," or in the company of universally appreciated, historic works as The Moody Blues' "Days of Future Passed" or Led Zeppelin's untitled fourth album...'

From HeathenHarvest.com:

Originally released in nineteen ninety-eight on the now defunct Castle Von Buhler label, which is when I first came across them, what struck me at first was the artwork , beautifully crafted by Cynthia Von Buhler whose work has appeared in such diverse publications as Cosmopolitan, the New Yorker, Newsweek and the Washington Post. Luckily my interest in the CD didn't rest solely with the artwork, when I fist listened to it I was blown away and thought it was a work of sheer brilliance, and those feelings have remained to this day.

the moors are Scott Dakota, and Sharynne Macleod NicMhacha; musically many genres are explored on this CD blended seamlessly into a mix of gothic, ambient, rock, ethereal, and all the while intimately linked to traditional Celtic and tribal elements. the lyrical themes of their music are exclusively Celtic (or, more precisely, Gaelic), and a good portion of the songs are sung or chanted in Scottish Gaelic. This is not at all surprising in the least as singer/lyricist/multi-instrumentalist Sharynne NicMhacha has studied the language and worked with the Celtic Department at Harvard.

She has drawn from her ancestral memory to produce the mix of songs found on the moors' debut disc. Assisting her is rhythm programmer, producer of sonic sculpture, and guitarist extraordinaire Scott Dakota, who has woven ambient loops, tribal drums, and Eastern riffs around NicMhaca's haunting vocals. Apart from being involved with the moors, and designing and constructing his own instruments, wide-range fretless guitar and bowed two-string fretless viola are two prime examples. Scott has under his belt many production credits, two of which include such artists as Garvy J aka, Josh Hager. (formerly of the semi cult bands "the Elevator Drops" and "the Rentals") and along with Garvy J produced, and composed the "Goddess" single by the mysterious chanteuse, Sophia Corbeau, which can be heard at Scott Dakota's Myspace site, I was reminded of Bel Canto upon first listen (post Geir Jenssen) from their ethereal nineteen nine-two release "Shimmering Warm and Bright".

Another project of note by Scott Dakota and Garvy J is ambient project Hidreamwave utilizing brainwave technology and sacred geometry musical experiments to alter one's consciousness using sound. Sharynne has continued to perform musically most recently with the band Trouz Bras, who combine traditional Breton dance tunes with a rocking rhythm section, complete with bagpipes and fiddle. In addition, on the literary side has written a book called Queen of the Night: the Celtic Moon Goddess in Our Lives, offering an illuminating and in-depth exploration of the role the moon has played in the religion, folklore, and mythology of Ireland and the British isles.

Return to Top of page


From HighlandsWebzine.com:

The very first release on Dark Symphonies' brand new Celtic/Folk/Faerie music oriented side label Forest Of The Fae, "The Moors" by the U.S. band of the same name, has managed to capture this reviewer's imagination and not let it go. This is one of those rare releases that is so involving, so encompassing and full of such a myriad of topics and ideas that even after five or six listens, I still have yet to grasp fully what is going on within the hidden relams of this wonderful music.

At its heart, the music The Moors have come up with for their self-titled album can simply be described as gothic and trance influenced Celtic Medieval Folk Music similar to Hagalaz' Runedance's more synth oriented material crossed with the music of Andrea Haugen's other band Nebelhexe. But alas, simply categorizing it as such doesn't even scratch the surface of the many elements you will find within the 73 plus minute running time of the album. One of the first things you'll notice right away is the ethereal sounding synthesizer*. The synth* is actually a large part of the band's music, and it's this that gives the album its trance sound. I'm not usually a fan of music with a lot of synth because it usually modernizes the music too much for me, especially Folk/Medieval music like this. Don't let this scare you away though, the synth* is just one of many aspects of this album, and they are done so well that you will be glad they are there.

The Folk and Medieval sound is just as prevalent, if not more-so, than the trance-inducing synth* parts. While mostly Celtic and European in flavor, the album also has other styles of Folk music from many different areas of the world which really gives this admittedly long album a much needed change of pace every once in a while. To show how worldly and varied the music on "The Moors" is, I feel I must let you know what traditional instruments the band used during the recording of the album. Here goes: flute, Irish pennywhistle, harp, viola, tenor recorder, Tibetan wood flute, viol, bells (temple bells, fairy bells, Indian bells) and chimes.

And hell, even with that long list, I'm sure I'm still missing some instruments there. Not only that, one of the cooler aspects of the album are the items found in nature like oak leaves, acorns, apple leaves, pine cones and branches that they used for percussion and other sound effects that are layered along with the overt tribal/war drum style of percussion the album has. It's yet one more element (literally!) that adds to the overall woodsy and natural focus of the album. There are some fretless bass and electric guitar parts, but they are used more for effect much like the loops and sampling and don't give the album a Metal sound at all.

The lyrics are as varied as the music is, if not more-so. Most of the lyrics revolve around nature, world mythology, druids, fairy tales and a bit of history. Female vocalist and lyricist Sharynne McLeod is a high priestess of some sort of witch group, so some of the lyrics also are invocations of various nature. Honestly, so much is going on here lyric-wise that I find myself trying as hard as I can to decipher it all, but ultimately I fail. And that's a good thing, because it means I won't grow bored of the album any time soon.

Sharynne is quite talented and has a beautiful voice. Sometimes she has a Folky clean vocal style, other times she's chanting, other times she takes a narrative approach. Most of the lyrics are in English, but you'll also find lyrics in French, Bulgarian, Gaelic and Latin as well.

The production is top notch, which is good for this style of music. With this many different instruments represented on the album, it is imperative that each one comes through well without overpowering anything else, and this is thankfully the case with "The Moors".

You also couldn't ask for better a better packaging and layout for the album. Artist Cynthia von Buhler not only created the cover, but also created artwork that acts as a visual representation for each and every song on the album. Her artwork is very unique in that she mixes her painting with real world items like branches, twigs, flowers, dead insects, tree bark, pine cones and more. It's one of the more distinct art styles I've seen in a while, and I'm glad there's a ton of it inside the lyric booklet.

Speaking of the lyric booklet, all of the lyrics for each song are printed within, and each song that is not in English has English interpretations. Not only that, Sharynne also wrote a lengthy synopsis for each song, going even deeper into depth about each song's subject matter than the lyrics do.

Well, what can I say? "The Moors" is one of the most ambitious albums I have ever heard, and anyone into Folk, Medieval/Renaissance music that's looking for something more involving and out of the ordinary should definitely pick this album up. The band is obviously talented, as I read that Sharynne has studied the subject matters found in these songs for a long time not only here in the U.S., but also all over the world. And Scott Dakota also seems extremely multi-talented as well. The combination of these two talented individuals cannot be denied as evidenced on this album, and I hope to hear more from them and The Moors in the near future.
6.5/7.0
Britton - Octubre 2007

*(Note/disclaimer, there is actually no synthesiser on this CD! Also there is no bass, fretless or otherwise, although Scott's wide range fretless guitars sometimes included a bass guitar string.)

From NewWitch.com:

The Moors
Dark Symphonies/Forest of the Fae, 2007
5/5 Broomsticks

When you hear a band described as "ethereal Celtic/Medieval trance-rock," you might expect yet another Enya-esque stroll through the misty Tolkienesque landscape, complete with overblown strings and sickly-sweet synthesizers propping up cloying "ethereal" vocals. The first few bars of "The Hunter," the opening track to this self-titled CD by The Moors, will soon disabuse you of those prejudices. Scott Dakota's drum samples and hard guitar riffs owe more to Led Zeppelin circa Physical Graffiti than to Lorena McKennit; Sharynne MacLeod NicMhacha's vocals have an eerie, unearthly edge which evokes the shadows of the Other World. The Moors aren't coming from the land of resin fairies and Vaseline-smeared lenses; their Folk may be Fair, but they're not necessarily Good and they bring terror along with their beauty.

The magic continues with "An Fidheag Argid," where NicMhacha's flute echoes over primal drums with a haunting melody that could be a hymn or a dirge and slithers through the bluesy power chords underlying "The Snake that Coils Within, Without." "The Blessing and Descent of the Goddess Brigit," a Gaelic/English spoken-word chant accompanied by a harp, could easily become the aural equivalent of a Hallmark St. Paddy's Day card. Thanks to NicMhacha's passion and Dakota's crystal-clear engineering, it succeeds as a powerful, prayerful invocation. (And yes, all those sounds are made by only two people: given a Mac and enough studio time, Dakota and NicMhacha could be their very own Pagan Tabernacle Choir, complete with orchestral accompaniment!) With "Moon Meditation and Prayer" and the untitled final track, a melody which will be quite familiar, the Moors bring the proceedings to a reverent, memorable close.

One is normally cautioned against judging a book by its cover. In this case the packaging is as lovely as the contents: noted illustrator Cynthia von Buhler contributed some stunning drawings. The Moors have long been a popular live act around their native Boston: we can only hope that Buhler's art helps draw attention to this CD and bring them the national attention they richly deserve.

Return to Top of page




*


The Moors highly-acclaimed CD features Sharynne MacLeod NicMhacha (Vocals, woodwinds, strings, percussion) and Scott Dakota (wide-range fretless guitar, loops and electronic treatment, percussion). They present original and traditional songs which combine Celtic, medieval and modern music in a unique and unforgettable electronic and Otherworldy setting, drawing on the trance-inducing and consciousness-altering properties of overtones, featuring primal percussion and haunting winds and vocals. (No synths!)

The Moors' CD has received airplay all over the United States, as well as in Canada, Britain, Scotland, France, Germany, Belgium, Chile, Israel and Hong Kong. It was voted 'Best CD of the Year' by the Noise Magazine upon its release, and received rave reviews across the board, in numerous magazines and websites nation-wide.


For more Moors links: Moors links


for Moor info write to:


the Other Moors
If you came here looking for the Moors band founded in 2008 in the UK, you'll want to click their logo to the left. This Moors' brew includes a very cool mix of Balkan gypsy music, klezmer, mediaeval Sephardic melodies, Cuban rhythms, jazz, blues, folk and rock music, and encompasses original compositions as well as arrangements of traditional music.







Complete Sitemap