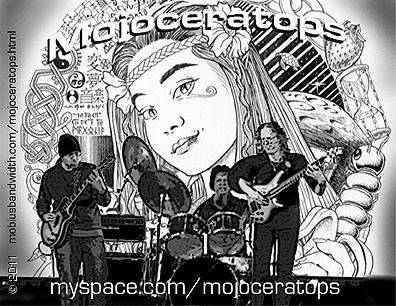 Welcome to the Mojoceratops tour information page.
Check this page for currently scheduled concert appearances for your planet.

Wednesday, 8/10/11:
We're planning on stopping by the No.9 Ale House 118 Ferry St, Malden, MA 02148-5622 for a brief set. Time 10pm (approximate), and possibly the following Wednesday, check back here for updates.


Click here to add us on facebook Mojoceratopss Facebook page
Click here to add us on myspace Mojoceratops on MySpace.com


Please join our online mailing list by sending us an email telling us you'd like to be on the list. We can then email you to let you know when and where our next performances will be. You can be removed from the list at any time by asking via email. We will not share your email address with anyone under any circumstances. (Unless they torture us.) If you don't have email, we can mail you a postcard instead, write to us.

&nbsp

Mojoceratops can be reached in the US via post, email us for the address.

















©Mojoceratops/MobiusBandwidth.com 2011 all rights reserved.