the Holistic Handyman

James Möbius supplements his unquantifiably huge rock star income by fixing up people's homes. a field trained carpenter, painter and all around handyman James favours building supplies that are as ecologically friendly as possible and believes in recycling. unlike most contractors, he won't smoke, drink, swear in front of your kids, let the cat out, listen to Howard Stern or Rush Limbaugh, or any of that crap that they usually do. So if your home is in need of mending feel free to contact him to schedule an interview.
click thumbnail size pics to view larger images of some of James's remodeling work

Custom cherry handrails, inspired by Japanese design.
---
Custom kitchen drawers in formerly blocked off space.
---
Custom built-in shelving and storage cupboards.
---
Custom kitchen cabinetry.
---
Assorted custom work.
---
This kitchen in a turn of the century Brookline home, was gutted to the studs, joists and subfloor. New custom made cabinets were installed, some had to be modified, all were hand tinted by me. A new floor was installed, the ceiling was leveled (due to house settling) the arch cabinet was custom made on premises. 60% of a pipe-box was reclaimed for a closet and bookshelf (see images 2 and 9). the crown moulding (image 4) is removable for air conditioner maintinence, rather than nailed in, the first 3 pieces are attatched to each other and screwed down. Maple wainscotting was added, all wood was spray finished on premesis, lastly a closet door was painted to match the stained cabinetry. I did most of the work myself.




---



This is a house in Cambridge I was recently working on. All colours selected by the residents. I also remodeled their kitchen. Stay tuned for more photos! Someone recently inquired if they'd like to have them paint their home. When told they just had it done they replied "you mean you chose those colours?" -I like 'em! but as long as the client is happy, that's all that matters.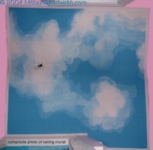 Ceiling mural.

---



This is a kitchen in Jamaica Plain (Boston), another carpenter began, he made the boxes of the cabinets, and was unable to finish the job. Nothing in the kitchen was square, plumb or level. I made the face frames for the cabinets and made the mitred doors from scratch. I also spray finished everything on premises, installed the counter-top, undersink lazy suzan, installed the sink as well and painted the room. (Owners were very happy.) Extensive custom work was required due to the odd shape of the room.
---



This is a photobackdrop screen I made. Black on one side, grey on the other, it's like a Japanese folding screen, except rather than rice paper I stretched some besheets over a frame I built, and then painted them. The wood was reclaimed from a futon frame someone had discarded. I disassembled it and ripped the wood down to the size I needed. It's 7 feet 2 inches tall and extends to 12 feet wide. I will use it to photograph my portraiture models against (for a photoreference).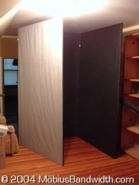 ---
Some exterior cellar stairs I built to replace a rotting staircase.
| | |
| --- | --- |
| | |
---
Some signs I made for Ashtanga Yoga in Cambridge.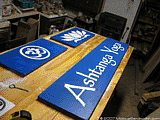 ---
A basement I have remodeled. these are the "after" pictures. This was an unfinished basement.
---
Roof deck flooring installed, custom spice shelves matched to wine rack, I installed an extra closet door for better access, there had been a wall there, had to move a phone wire in the wall, custom made dutch door, with plexi-glass inserts, made from a modified antique door I salvaged. Teak deck furniture restored.
---
Sometimes people ask me to put up shelves, sometimes I make the shelves from scratch, other times I just have to cut some down to size. these custom made bathroom shelves are made of PVC board, it's white and water proof, will never rot, and doesn't need to be painted. I rounded the edges where someone might bump into them. (Usually me right after I put them up).
---
Sometimes people ask me to assemble things they have bought, bunk beds, ceiling-mounted shower rings, rolling carts with shelves, wagons, and lots of things from Ikea which you always need some metric something or other to do, and there's often a hole in the wrong place.
---