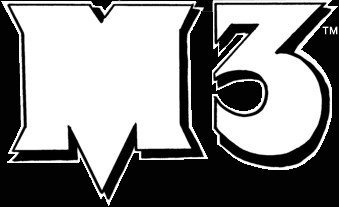 This is the audio page.
several tracks from our first CD 'M3' and other recordings
-all Music copyright © M3 2004 all rights reserved
1 Conviction 5:32 (5.2 MB)

Can you succesfully mix heavy metal, fusion jazz
and the weirdest funk groove from outer space you ever heard? we think so!

2 Magonia 4:20 (4.1 MB)

Magonia the legendary land where the Faeries invite you for tea and a dance,
-you get home to discover weeks, months or years have passed.
I know that's what I think of when I hear hard funk rock that
changes time signatures repeatedly! (but that's just me)
actually it makes sense come to think of it,
the song fools around with time, just as the wee folk do.

the Cyberfunk Suite; 2nd movement: 'Impossible figure (for Su)', and first movement: 'Another Viking Victory at the Green Midget Cafe' 9:20 (6.6 MB)
from our Debut CD. On the disc this track is followed by the 4th movement, 'Stay Alive'. so where's the 3rd movement? It'll be on our next disc.


8 Stay Alive 2:23 (2.29MB)

the name of this medieval/keltic/rock tune
is a line from Big Country's eponymous anthem,
features James playing a 25 year old mandolin.
this is the 4th movement of the Cyberfunk suite, a trilogy in 4 (or so) parts
of which the first 2 and the 4th are on the CD 'M3'.
the song that gives a whole new meaning to the word 'Trilogy'*

improv5 5:12 (3.67 MB)
A live improvisation.


Exit Sandman 5:29 (3.87 MB)
Dedicated to the late Mark Sandman of the band Morphine.


Two Swans 7:16 (5.12 MB)
This song has secret meanings. It also features the Chapman stick, a ten stringed instrument that sounds like a Bass, a Guitar and a synthesiser at different points in the song. (No overdubs!)


Lost 11:21 (7.99 MB)
This song features the Stick also, in a different mode, or 2. this song is long. the full title is actually ''Lost without you (road to Oregon)''


3_faces 4:46 (3.36 MB)
This improvised track is from M3's cassette-only limited edition release Trois Visages. you are hearing the song being composed in real time as we played it.

-all Music copyright © M3 2004 all rights reserved

Hear more here! here are some other websites where you can hear more of our music, and in some cases buy our CD, naturally we prefer if you buy it directly from us since that way we don't have to split the money with the other site, not that we don't appreciate their willingness to carry our music, but there's a reason they call us starving artists.

M3 at CDnow.com
M3 at CULTV.com

(our first home on the web)


*apologies to Douglas Adams
© M3/MöbiusBandwidth.com 2004 all rights reserved.